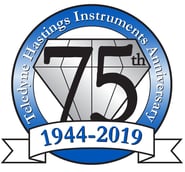 This year, 2019, marks the 75th anniversary of Hastings Instruments and we will be celebrating all year long by discussing some of our past while focusing on our future. This month, I'd like to tell you a little about our glass shop.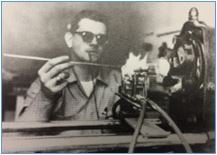 In 1966, Hastings-Raydist purchased the Robert H. Work Company. Work had been a supplier of glass parts for Hastings. The company was then moved into the Hastings plant. At the new location, glass workers began to produce scientific glassware under the Hastings label. Product catalogs in the late 60s and early 70s included McLeod vacuum gauges, calibrated gas leaks, and Pyrex vacuum gauge tubes.
Today, we still use our glass shop to build the Hastings Reference Tube. A reference tube is an evacuated, sealed vacuum gauge tube accurately marked at a specific pressure. It is electrically equivalent to our most popular vacuum gauge tube families.
Gauge Tube Family

Range

Reference Tube

DV-4 Series (Purple)

20 Torr

DB-16D

DV-5 Series (Red)

100 mTorr

DB-18

DV-6 Series (Yellow)

1000 mTorr

DB-20
A reference tube can be used with several of our thermal vacuum gauge instruments including the HPM-4/5/6, the VT and CVT, the DVT and DCVT, and even the DAVC controller.
How is it used? Simple, you just plug in your reference tube and compare the reading from your instrument with the number that is shown on the reference tube label.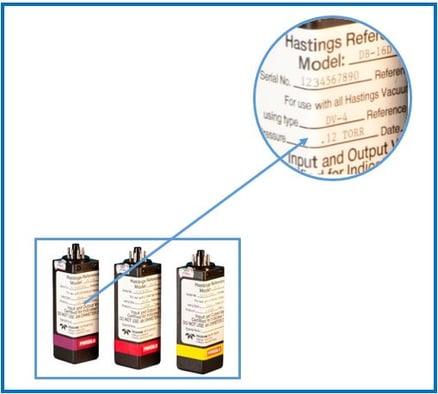 So the reference tube tells you that your electronics and cabling are working correctly. Note that a reference tube will not directly tell you anything about the state of your gauge tube. But through process of elimination, you can often determine that the gauge tube needs to be replaced. You can learn more about troubleshooting thermocouple vacuum gauges here:
https://info.teledyne-hi.com/thermocouple-vacuum-gauges-best-practices-webinar-recording?
As noted in the table above, the reference tubes, like the gauge tubes, are color-coded. And reference tubes can be sent back to us to be recertified which many folks do on an annual basis.
Next, let's discuss a little about what is going on inside of a reference tube. Sometimes people will ask if we adjust the pressure inside the tube to allow it to read a certain value – we do not. In other words, if you could measure the pressure in the sealed-off tube, it would not be the pressure reading that is stated on the side of the reference tube. While a reference tube does have the same thermopile sensor arrangement, it is simply trimmed to give a particular reading when powered by the correct heater voltage.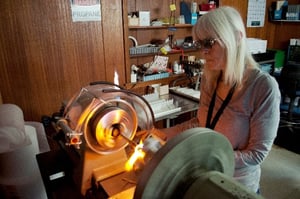 We are proud of our long history of quality craftwork, not only in the glass shop, but throughout all of our vacuum and thermal mass flow product lines here at Teledyne Hastings. The same tradition of quality goes into our newest products including the 300 Vue line of mass flow controllers and the HVG-2020 Vision line of vacuum gauges. You can learn more about our products by visiting www.teledyne-hastings.com