Watch Webinar Recording
and Download Slides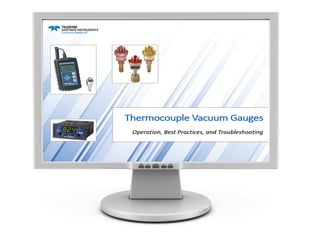 If you missed or were not able to attend our webinar or just want to listen to it again, the recording is now available for viewing. The slides are also available to refer back to.
Title: Thermocouple Vacuum Gauges: Operation, Best Practices and Troubleshooting
This webinar was suited to those who wanted to learn about Thermocouple Vacuum Gauges.

This webinar covered the following topics:
Theory of Operation

Installation Tips

Meters/Controllers

Accuracy and Repeatability

Use in gases other than Air/N2

Cabling

Troubleshooting Tips
To access the recording and slides, please fill out the information on the right.