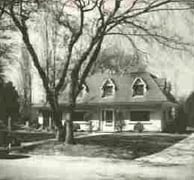 In September 1944, the Hastings Instrument Company started to take shape. For quite some time, Charles & Mary conducted the business out of their home. They received their first order in December from the Naval Aircraft Factory in Philadelphia for $800. The order was for a rotary magnetic switch for commutating electrical circuits.
The following month, Charles built his first heated thermopile anemometer, which he called the Air-Meter. This Air-Meter was based on ideas he had had in 1940 for making a thermopile instrument to measure aircraft speed. It also incorporated his invention of a way to make a thermopile compensated for both temperature and rate of change of temperature. He decided to name his radio ground speed system by combining the first syllables of the words "radio" and "distance" to form "Raydist".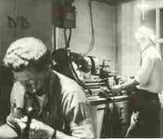 Business continued to grow. Seventeen employees would arrive at the Hastings home around 7pm on Monday, Wednesday and Friday to work on their electronic projects (see image on right). During the day, Mary would take care of miscellaneous projects. On one occasion, Mary agreed to have some Raydist cabinets painted by the time Charles came home. Unfortunately, the air compressor was out of air so Mary came up with another plan. She would take the car to the nearby service station and put as much air in the tires as she could without them bursting. She would then drive back home, attach her paint sprayer to the tires, and paint the Raydist cabinets

until her tires were almost flat. She did this several times to complete the project before Charles came home. The business activities took a toll on the Hastings home. The roof leaked and needed to be replaced from all the antennas mounted to it (see image on left), the driveway needed to be replaced from the damage of delivery trucks, Mary's oven smelled like paint which caused some challenges when meal time came.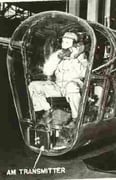 In January 1946, Hastings received their first order for a Raydist. The Air Material Command at Wright Field in Cleveland Ohio wanted a single-dimensional Raydist system to use during aerial photography and mapping. The final product was hand-delivered by Charles himself in October. (see image on right and below)
This Raydist order was the largest order Hastings had ever received and he felt that once they were paid for it all, their troubles would be over.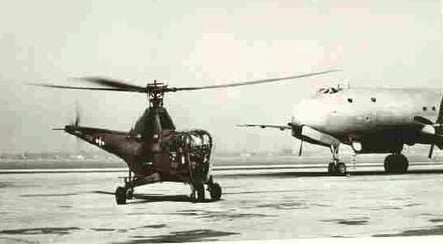 For more information on Teledyne Hastings be sure to visit our website www.teledyne-hi.com or contact us
Information for this blog was derived from "The Story of Hastings-Raydist" book by Carol Hastings Sanders 1979