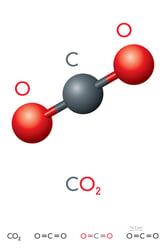 This blog is the next installment in a series of blogs focusing on industrial gases. The first blog featured SF6 and can be found here: https://info.teledyne-hi.com/blog/sulfur-hexafluoride-gas-sf6 In this blog, we will explore one of the most useful, and well-known, of the industrial gases, carbon dioxide (CO2).
CO2 is an odorless and colorless gas. As a matter of fact, you exhale about a quarter liter of CO2 every minute (https://www.nytimes.com/1990/08/14/science/q-a-burden-of-breathing.html). And while we are on the subject of breathing, it is interesting to note that it is usually the buildup of CO2 that triggers a breath, not the lack of oxygen. A recent special feature in Gasworld US Edition noted that "low concentrations are not harmful, higher concentrations can affect respiratory function, cause excitation and depression of the central nervous system."
The structure of CO2 is linear. The electronic structure of the molecule features bonding pairs of electrons around the central carbon atom. These electron pairs repel equally while bonding to oxygen atoms. The equal repulsion is what gives CO2 its linear arrangement. A diagram of the molecule is shown on right.
There are many fascinating uses of CO2, some are well-known while others may be new to the reader.
Used in industry to produce chemicals and as feedstock
Used in the metals industry to improve the hardness of castings
Often used as a carrier for spraying of paints or for spraying vegetable oils in cooking
Liquid CO2 can be used as a solvent in eco-friendly dry cleaning
Solid CO2 can be used for cold storage
Jets of CO2 are used for special effects in movies, live shows, and amusement parks
Gas phase CO2 is used for fire extinguishers
Carbonated beverages
A quick note on purity... CO2 used for fire extinguishers can be ~ 95% pure. However, the purity of CO2 in carbonated beverages can be as high as 99.9995%.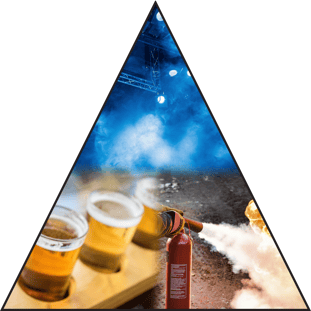 A word on explosive decompression of elastomers when using CO2. CO2 is known to more easily penetrate elastomeric seals such as o-rings and diaphragms at pressures significantly higher than atmosphere which in turn can cause the host material to swell. If the pressure is suddenly decreased (i.e rapid decompression), the internal gas can rupture the elastomer and the seal can be compromised. There are a few things the user can try to reduce risk. First, select materials that are less susceptible. Viton® is often not a good choice for CO2 applications. Second, if the application will allow, try to reduce the amount of time the elastomeric seal is held at elevated pressure. And third, when the pressure is reduced, allow more time for the CO2 to exit the material.
Flow controllers from Teledyne Hastings are used to measure and control CO2 flow in many of the aforementioned applications. The 300 Vue can provide all-metal seals and Kalrez® valve seat. (see diagram below). For users of the elastomeric-sealed 200 Series, we recommend Buna-N seals which are less susceptible to explosive decompression.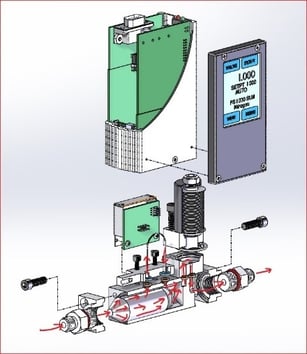 Teledyne vacuum gauges can be used with CO2. The HVG-2020B (Click Here) is an excellent choice for measuring CO2 from below 1 mTorr up to atmosphere. Convection driven pirani vacuum gauges, when used with gases other than N2/air can have curious behavior as can be seen in the cartoon below.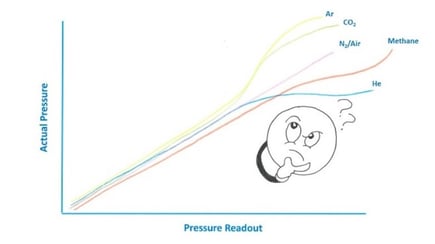 The HVG-2020B vacuum gauge uses a gas-independent piezoresitive sensor that does not rely on convection affects and provides a more liner response to CO2 across the entire measurement range.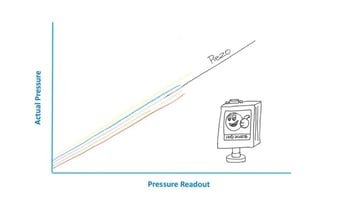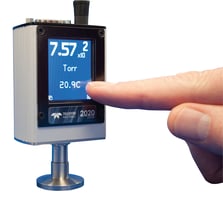 If you would like more information about either the 300 Vue mass flow meters or controllers, or any of our vacuum gauges including the HVG-2020B, you can talk to any of our application engineers at 757-723-6531, or email hastings_instruments@teledyne.com or LiveChat with us at www.teledyne-hi.com
Special thanks to Lawrence Ferbee from the stockroom for his cartooning skills. If you would like to see Lawrence in action as he draws these, check out our HVG-2020B video:
https://www.youtube.com/watch?v=_Bk3Q7SpSUc
Viton® is a registered trademark of DuPont Performance Elastomers
Kalrez® is a registered trademark of DuPont Dow Elastomers