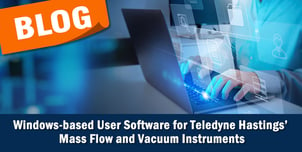 Teledyne Hastings has a broad offering of thermal mass flow meters, mass flow controllers, and vacuum instruments. Within each of our digital product families, we offer both analog output (e.g. 0-5 VDC, 0-10 VDC, and 4-20 mA) and digital outputs (RS232, RS485, and USB). Typically, our customers will interface our instruments to their data acquisition systems. But, in some cases, our users want a fast and easy method to configure, control, and collect data with our instruments. In this blog, we will discuss our Windows-based programs. Specifically, we will answer three questions:
What do our Windows-based interface programs do?
How do you use the Windows software?
Where can I download the Teledyne Hastings free Windows user software?
Before we start, we want to tell you that all of our instrument software, including DisplayX for the THCD-101 and THCD-401 power supplies, is FREE. We don't charge for these routines so there is a limit to how much technical support we provide for software. But, if you run into an issue, we will try to help. Typically, software issues are associated with the PC and not with the flow or vacuum instrument.
1. What do our Windows-based interface programs do?
CONFIGURATION: Our instruments are configured and shipped according to the selections given to us before order entry. Generally, our instruments are "plug and play". But in some cases, the end-user may decide that they want to change the configuration. For example, it may be the case that a different set of units is more convenient. Or, in the case of a flow instrument, a different gas record needs to be selected. Our Windows-based code makes it very easy to make a selection and write it to the instrument's memory. Our Digital 300 Series has many features including multiple gas record capability, totalizer, and control valve soft-start. All of these can be modified with our free Windows-based user software.
CONTROL: In some cases, the user may want to get up and running very quickly to test system parameters before they interface to a PLC. Our routines allow easy control and the user has the option to open a window to view live vacuum or flow data as a function of time. And the user can display a graphical window which shows performance over a stretch of time. In the case of a flow controller, the user can enter flow setpoint commands using a numeric input, or slider bar.
Data Logging: Perhaps the most popular use of our Windows-based programs is the ability to set up and record data to an Excel (csv) file with a user-defined interval over a long period of time. This allows the user to perform tests overnight or over several days. There is a limit to the number of data points that can be stored. So the user must take that into consideration when setting up the test.
2. How do you use the Windows software?
For starters, you will need to connect a serial cable (RS232, RS485, or USB) from your laptop to either the 300 Vue mass flow instrument or our HVG-2020 vacuum gauge. In this example, I will connect to an HFC-D-302B digital mass flow controller. But, the initial steps are identical for the HVG-2020 Series vacuum gauges. A USB cable (micro-B) is very convenient to use because these cables can usually be found at "dollar" stores. (And yes, they only cost about a dollar.) The USB connector serves as a virtual COM port for serial communication, eliminating the need for a USB to Serial converter.
Once connected, you simply run the Windows executable program and the following window will popup: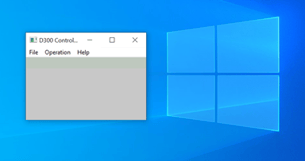 At this point, you need to serially connect to the instrument. You do this by clicking on Operation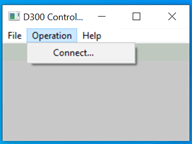 and then clicking on Connect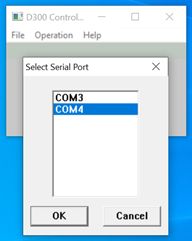 Now, in the case shown here, my cable is connected to COM Port #4 and when I select COM4 in the drop-down menu, the window shows the digital setpoint (in blue) and the actual flow rate (in red).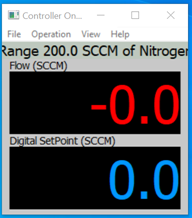 Once the unit is connected, there are several additional windows that can be opened. You can click on VIEW and see the choices.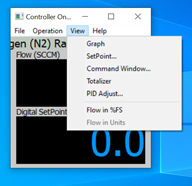 If you are operating a flow controller, the next window you will likely want to open is SetPoint. This window allows you to control the MFC by typing a setpoint command in the entry field at the top, sliding the selector on the left, or clicking one of the boxes on the right.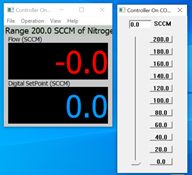 The Operation menu has many useful features, especially for configuring the 300 Vue mass flow controller. And, if you want to log data over a long period of time, you will set that up using the Logging menu.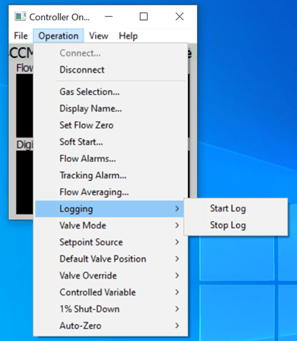 3. Where can I download the Teledyne Hastings free Windows user software?
You can request the software from our website. The link is given here: https://www.teledyne-hi.com/resource-center/software
Please note that we must comply with US export regulations, so we are required to know the names and addresses of all folks who request our software. Once you have completed the short form and we have reviewed, one of our application engineers will send the requested software to you via a secure file transfer site.
One other note we would like to make about digital communication with our vacuum and flow products. In addition to the Windows software, we also have certified LabVIEW drivers for all of our digital products. And for our flow power supplies (THCD-101 & THCD-401), we provide free software (DisplayX).
And as always, we are here to help. If you have any questions about any of our vacuum or flow products, you can reach out to us by phone (800-950-2468/757-723-6531), email (hastings_instruments@teledyne.com) , or via LiveChat on our website (www.teledyne-hi.com )
Microsoft, Windows, Internet Explorer, Microsoft Edge, OneDrive, and Microsoft Excel are trademarks, or registered trademarks of Microsoft Corporation in the United States and other countries.