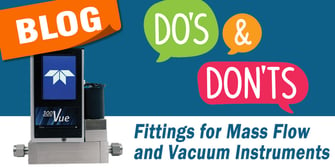 In this blog, we will discuss various system connections, or fittings, that are available for both our mass flow and vacuum products. We will briefly explore why you might select a particular family of fittings for your system. Also, we will touch on some basic installation Dos and Don'ts.
Mass Flow Meters and Mass Flow Controllers
Many users of low flow (0-5 sccm up to 0-25 slm) instruments appreciate the convenience of compression fittings. The Swagelok ™ brand of compression fittings is very popular, and many users ask for these by name. Compression fittings can be very reliable; also, they can be quickly uninstalled and reinstalled as needed. And, unlike VCR ™ and VCO ™ fittings (we will talk more about these in a minute), compression fittings do not require a separate o-ring or single-use gasket. Our flow products are offered with various size Swagelok™ brand compression fittings. While the 1/4" size is the most popular for many low flow applications, we also offer, even smaller, 1/8" size as well. Metric sizes, including 10 mm and 12 mm, are also available. Then, for even higher flow applications, we also offer 1/2", 3/4", 1", 1.5" and even 2" Swagelok ™ fittings. Note that the largest compression fittings require a swaging tool. (Link?)
Per the "Tube Fitter's Manual" published by Swagelok®, here are the steps for manual installation of Swagelok Tube Fittings up to 1 in. or 25 mm.
Fully insert the tube into the fitting and against the shoulder; rotate the nut finger tight.



Mark the nut at the 6 o'clock position.




While holding the fitting body steady, tighten the nut 1 ¼ turns to the 9 o'clock position.
For 1/16, 1/8, and 3/16 in. or 2, 3, and 4 mm tube fittings, tighten the nut ¾ turn to the 3 o'clock position.


Reassembly Procedure is as follows:
Prior to disassembly, mark the tubing at the back of the nut, mark a line along the nut and body flats.

Use these marks to ensure that you return the nut to the previously pulled-up position.



Insert the tubing or tube adapter end connection with pre-swaged ferrules into the fitting until the front ferrule seats against the fitting body.


While holding the fitting body steady, rotate the nut with a wrench to the previously pulled-up position, as indicated by the marks on the tubing and flats. At this point, you will feel a significant increase in resistance. Tighten the nut slightly.


The VCR ™ system from Swagelok™ is very popular with users who need high purity, all-metal, reliable sealing for either positive pressure or vacuum applications. For these fittings, a gasket, usually metal, is used to seal between the two symmetric sealing faces. In some cases, an elastomeric or PTFE gasket can be used. Metal gaskets (e.g. copper, nickel, or stainless steel) in VCR ™ connections should only be used once. Metal gaskets can be purchased with a retainer to hold the gasket in place when installing. The gasket is secured between the mating surfaces and the nut is drawn finger tight. Then, to finish installation, two wrenches are used to tighten the connection and create the leak-free seal. Note that copper gaskets require a 1/4 turn (90°) beyond finger tight while nickel and stainless steel only require an 1/8 (45°) of a turn.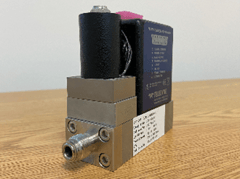 HFC-302 with VCR fittings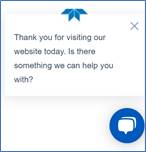 The VCO™ system is convenient when the user wants to have fast make and break connections. It is also handy when space is limited. One part of the VCO™ connection includes an o-ring while the mating connection has a flat smooth finish. Installation is easy. A nut is made finger tight and then a wrench is used to tighten by 1/8 (45°) of a turn.
Usually, your fitting selection and piping are going to be a function of the flow rate. Our application engineers are available via email, phone or LiveChat to help you.
Vacuum Gauges
There are several popular systems of connections for vacuum gauges. Selection of a system should be driven by base pressure, outgassing load, and of course, cost.
For many users who just need to reach the mTorr range of pressures, tapered pipe thread (NPT: National Pipe Tapered) connections are simple, require no external clamps or bolts, and can be assembled quickly. However, PTFE tape or some other sealant should be used on the threads for two reasons. First, the tape/sealant fills the void between the mating thread surfaces and second, the tape/sealant acts as an anti-galling lubricant between the threads.
When wrapping PTFE tape onto NPT threads, start with clean surfaces and a clean cut of the tape. Make sure the tape is flat as it is wound onto the sealing surfaces and wrap in the direction of the threads. Two to three wraps is adequate. End the wrap with a clean cut of the tape. Tighten the connection with a wrench. How tight? Well, there is no right answer except to say that you want the system to seal, but you don't want the threads to strip. So, use a wrench until tight, but do not try to force and overtighten.
The KF system is convenient for users who need a fast leak tight system connection for their vacuum gauges. "KF" is short for Klein Flansche which is German for small flanges. Vacuum systems with KF flanges can reach into the 10-8 Torr range. KF sizes, such as KF-16 and KF-25, are related to the maximum nominal inner diameter tubing in millimeters that can be attached to the flange.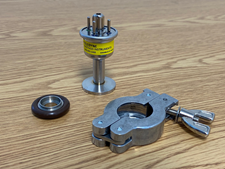 Teledyne DV-6-KF-16 (Shown with o-ring assembly and clamp)
And lastly, ConFlat hardware is ideal for high vacuum and ultrahigh vacuum systems. ConFlat flanges have a knife-edge that seals against a gasket, usually copper. The connection is made by tightening a series of bolts; the number of bolts is a function of the size of the flange. Clean, baked, suitably pumped systems using ConFlat hardware have been known to reach pressures below 10-13 Torr.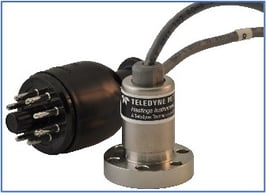 DV-6 Gauge Tube with ConFlat Flange
If you would like to discuss your application for vacuum gauges, mass flow meters, or mass flow controllers, we are standing by. You can reach us by phone (1-800-950-2468), email (hastings_instruments@teledyne.com) , or by using our LiveChat box at www.teledyne-hi.com or clicking on the box below.
Note: All photos of Swagelok fittings in this blog are used with their written permission.