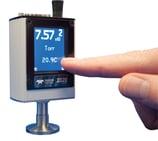 Save money

Measure 0.1 mTorr to 1000 Torr with one precision instrument

Improve your process

Dual sensor technique provides excellent accuracy and repeatability for your critical applications.

Easy to install




Flexible outputs (analog and digital) with multiple power connections get you up and running fast.

Optional Color Touchscreen Display




You are in control. Configure and view data the way you need. Use the pressure vs. time graph to understand system performance.

Rugged

Install with confidence. Trust the company with the reputation for reliable vacuum measurement.

Need more? Complete the form on the right and we will contact you.