New THCD-400 Power Supply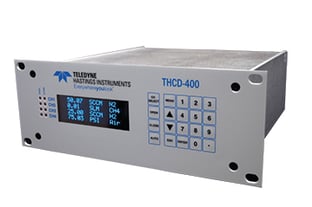 The THCD-400 is a microprocessor-based four channel power supply and controller that can operate mass flow meters, mass flow controllers, and pressure transducers as well as vacuum gauges. It provides stable output voltage levels to power these devices.
The instrument accurately measures and displays output from analog transducers. In addition, it can generate analog command signals to mass flow meter controllers.
Here are some of the features of the THCD-400
5 Digit Resolution

0-5 VDC, 0-10 VDC, or 4-20 mA

Accuracy (A/D) <0.01% of Full Scale

Eight Alarms (High & Low for Each Channel)

Ratio Control

Totalizer

RS232 / RS485

Convenient Valve Override Buttons

Many Selectable Units & Gas Names

Bench Top or Panel Mount

CE & RoHS Compliance
For more information on the THCD-400, please complete the form on the right and we will gladly email you the Product Bulletin.