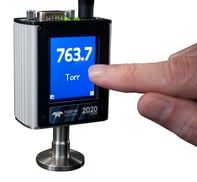 Save money

Get accurate results without using more expensive capacitance manometers

Optional Touchscreen Display

You are in control. Configure and view the data the way you need.

Convenient USB and RS232/RS485 Connections

Automate your data acquisition quickly and save set up time

FREE Windows™ Software

See your data remotely and log to Excel™

Rugged

Need more? Complete the form on the right and we will contact you.