Free Guide: Best Practices for Mass Flow Controllers and Mass Flow Meters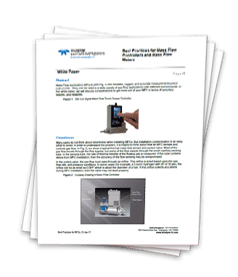 Mass Flow Controllers (MFCs) are versatile, rugged, and accurate measurement/control instruments. They can be used in a wide variety of gas flow applications with different environments.
Download this 6-page whitepaper to learn how to get more out of your MFC in terms of accuracy, stability, and reliability.
Practical considerations and advice on:
Cleanliness
Filtration
Pressure Regulation
Line Size
Straight Piping
Electrical Connections
4-20 mA
Calibration Interval